Learn how in your account settings where you can manage your newsletter, store, account, and integration settings.
To access your settings, click on Settings in the Letterhead menu.
The Settings page is divided into four sections; use the sub-navigation on the top right of your screen to navigate to the other sections:
💾 Once you've made your updates click the Save your settings button to save and submit your settings. If you leave this page before clicking Save your settings, your changes may not be saved.
General Settings
👋About your channel
Description:
Use 280 characters or less to describe your newsletter. This short description is placed at the top of your Store and the top of your newsletter archive page.
Logo:
Upload a square .jpg or .png image. It should be 300px wide and 300px tall. Logos are not currently displayed on your Store or newsletter but may be used within Letterhead soon.
Timezone:
Select the default time zone of your newsletter from the Time zone dropdown list. The timezone defaults to Eastern Standard Time though you should always confirm it's accurate.
⚠️Set your timezone correctly to the timezone in which you wish to send your newsletter so that your promotions and schedules are accurate.
Link to your website:
Enter a link to your website; this will appear in your Store.
Link to your newsletter:
Enter a link to an edition of your newsletter; this will appear on your Store.
Describe your audience:
If you have information about your audience's demographics and where you have concentration or emphasis, share it by selecting from the categories' dropdowns, you can choose as many options as you want; click or press enter on the options to choose and click or press enter again to remove.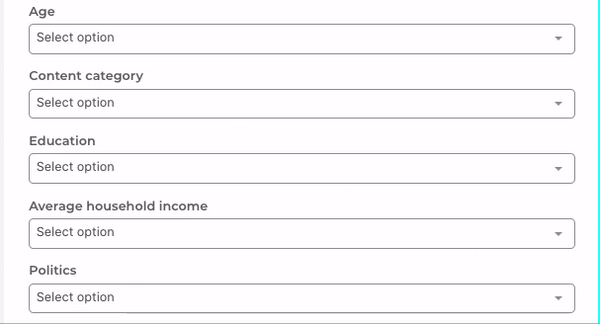 Contact Information:
Complete the remaining fields with information about how your readers and customers can get in touch with your business.
Contact information isn't listed on your Store but will be used on receipts, and inbound inquiries will be sent to the email address provided here.
The street, city, state, and postal code appear on the footer of your newsletter as required by CANSPAM laws.

If you don't want to share your current mailing address, you can quickly sign up for a P.O. Box or commercial mail receiving service.
---
🪧Selling Promotions
Publication Schedule
Publication Days:
Select the days you publish to help build your schedule inventory. There are other ways to manage your promotion inventory, like Skip Days and Promotion Type schedules.
What days of the year do you skip:
Special days when you will not publish a newsletter so that advertisers don't purchase and schedule promotions for that date. Holidays, vacations, planning weeks, and unique campaigns are everyday events to block off.
Schedule buffer (in hours):
This is the time limit (in hours) of how soon a promotion can be scheduled. This is commonly used so that you have time to review, approve, or ask for updates before your newsletter is set to publish. Also, suppose you pre-produce your newsletter in advance. In that case, a buffer will prevent a customer from scheduling a promotion after your newsletter has been scheduled, resulting in the advertisement not running as expected.
🏪 Store
Store Visibility:
A toggle switch that turns yourStoree on or off.
Content Metrics:
These metrics are displayed in your Store, and the numbers can be manually updated by you here. Use decimals for percentages (25% = .25). Some users like to use exact subscribers, while others will round their numbers. The only important thing is to provide accurate numbers that properly represent your brand's engagement.
Look and Feel
Store Banner:
You can upload a banner to replace the name of your channel as it appears on your Store. Upload and crop a horizontal .jpg or .png image.
Screenshot of your newsletter:
Upload a screenshot of how your content appears on the phone, and we'll superimpose a neat graphic on your Store. Upload and crop a vertical .jpg or .png image.
Thumbnail:
Upload your channel's thumbnail, so we can ensure that your Store looks great when shared, searched, or promoted. Upload and crop a horizontal .jpg or .png image.
Quality Control:
Link to any terms of service or conditions you might have published elsewhere, like your website.
---
📨 Sending emails
Sending and receiving
Emails Service Provider:
By default selected as LetterheadESP. If you are working with another ESP to send your newsletter, you can select that here though there are limited options.
Sender name:
This is the name that subscribers will see in their inbox in the "from" field. Using your brand name or the editor's name with the brand is common. Eg. 'Wizards and Wonders' or 'Albus at Wizards and Wonders' or 'Albus, Wizards and Wonders'
Sender email address:
This is the literal email address your subscribers will see when they receive an email from you. Your default Letterhead sending email address will follow this format: brandname@a.letterhead.email. If you wish to change this to your domain name, please fill out a support ticket. You cannot change this field without help from support.
Reply email address:
When a subscriber hits reply to your newsletter and send an email response, this is the email that will receive the reply.
Look and feel
Body and Paragraph Font:
Select the default font for your newsletter's main paragraph text. You can use custom fonts using the custom CSS feature though there is no guarantee they will render for all subscribers. The fonts listed here are google fonts, which are more likely to render correctly in your subscribers' various inboxes.
Heading Font:
Select the default font for your newsletter's headers. You can use custom fonts using the custom CSS feature though there is no guarantee they will render for all subscribers. The fonts listed here are google fonts, which are more likely to render correctly in your subscribers' various inboxes.
Font, Background, Accent Color:
Controls the default colors for your entire newsletter. You can select it from our quick presets or customize it by clicking on the color swatch at the bottom, using the color selector, or entering RGB or HEX. Be sure there is a contrast between your background, font, and accent color, so it is readable to all subscribers.
Newsletter Banner:
You can pre-upload a banner for your newsletter, which will appear at the top of every new blank edition. This is less important if you work from templates that pre-design those elements.
Advanced Look & Feel
Advanced Fallback Fonts:
These fonts can be selected so that you may give a consistent newsletter experience regardless of your subscriber's system. These fonts will be used if your primary fonts do not render for a subscriber. These are the most common fonts a user can have.
Email CSS:
You can drop your own custom CSS elements into this field to make micro-adjustments to your newsletter's look and feel. Read the detailed documentation on what is and isn't possible in email CSS.
Promotion Placement
Automatically insert promotions:
By default, automatic placement is set to off. Automatic promotion insertion is being slowly phased out as some bugs can occur. Learn how to use manual promotion placement using promotion placeholders.
Archive visibility:
This toggle will turn your archive page on or off. Your archive page must be on for subscribers to get proper confirmation and success messages when subscribing to your newsletter, regardless if you're using Letterhead's signup form or your own methods like API or Zapier.
---
🤖 Integrations
Connect to other services
Constant Contact:
An early access product to link your Constant Contact account to Letterhead for syncing data and sending through Constant Contact.
Mailchimp:
Connect to an existing Mailchimp account to sync contacts or send through Mailchimp's ESP.
Stripe:
Connect your stripe account to Letterhead so that you can turn on your store and sell promotions. We only do payment automatically via Stripe.
Promotion RSS:
If useful you can request your promotions RSS key to pipe your Letterhead promotions to other services you may be using.
API Keys:
We can provide you with your API key and documentation to get you building your own custom integrations. File a support ticket to recieve your key.
Embeddable form HTML:
We provide a basic signup form that can be pasted into other website builders using their custom HTML block. Feel free to modify and style as needed. These signup forms will trigger an email verification process for subscribers. If you have an active Welcome Letter ready, upon clicking the verification button in their inbox.