The general section in your account settings is where you update your store, describe your audience, edit your contact information, and more.
To access the Settings page click on Settings in the Letterhead menu.
The Settings page is divided into four sections, use the links on the top right menu to navigate to the general section.
Complete each form field using the following instructions:
About your channel:
Description: Use 280 characters or less to describe your newsletter. This is the short description that's placed at the top of your store and at the top of your newsletter archive page.
Logo: Upload a square .jpg or .png image. It should be 300px wide and 300px tall. Logos are not currently displayed on your store or newsletter but may be used within Letterhead soon.
Timezone: Select the default time zone of your newsletter from the Time zone drop-down list.
Link to your website: Enter a link to your website.
Link to your newsletter: (optional) Enter a link to an edition of your newsletter, this will appear on your store.
Describe your audience
If you have information about your audience's demographics and where you have concentration or emphasis, share it by selecting from the categories' dropdowns, you can select as many options as you want, just click or press enter on the options to select and click or press enter again to remove: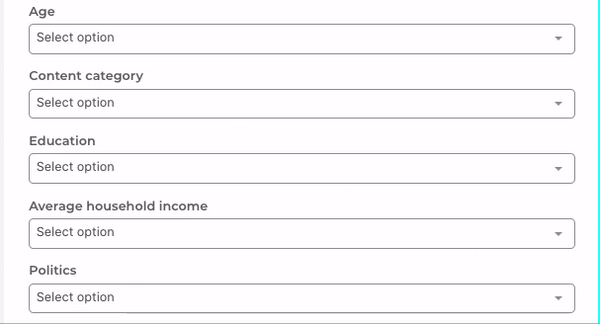 Contact Information
Complete the remaining fields with information about how your readers and customers can get in touch with your business.
Contact information isn't listed on your store but will be used on receipts and inbound inquiries will be sent to the email address provided here.
The street, city, state, and postal code appear on the footer of your newsletter as required by CANSPAM laws.
Once the form fields are complete, click the Save your settings button to save and submit your settings. If you leave this page before clicking Save your settings, your changes may not be saved.