No, at this time, Letterhead does not have a way to resend the 'Verify your subscription' email to the audience members that have a status of 'Pending confirmation'. In this article, we provide a workaround, until this feature is added.
There is no easy way to resend that verification email again through the app because we enforce double opt-in subscriptions, the user/administrator CANNOT resend the confirmation email via Letterhead in bulk or manually.

If you see emails in PENDING CONFIRMATION status, it is possible that your audience didn't verify their subscription yet, OR they opted not to.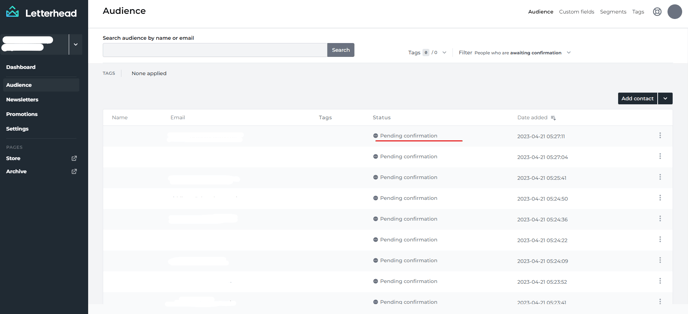 The user/administrator can switch them over to subscribe manually, and there is a checkbox to send a Welcome email. However, we DO NOT advise this since they may have legitimately opted not to verify their subscription.
When a someone signs up through the archive page, they get an email with the subject "Please confirm your subscription to (channel name)", and they need to click on the "Verify Subscription" button.
Once they click the "Verify Subscription" button, another email will be sent (welcome letter email).
The Letterhead support team can confirm if the subscribers received the verification email. You can see the sample picture below.

If you prefer to reach out to them regardless, it is possible to export the subscribers with this status, and re-upload with a status of '1' (Subscribed) and a tag, 'Pending confirmation', for example, to easily identify them.
Keep all the other fields the same as in your export, as when you import, it will update (rewrite) all of the fields for each of the subscribers.
Once they have been uploaded, you can create a segment for these subscribers, and send them a one off email to let them know they subscribed to your newsletter and that if they did not voluntarily do so, or did not intend to, they can unsubscribe by clicking on the link in the footer of the email.
This gives them an option to unsubscribe prior to receiving the next edition.
If you have any questions, kindly email us at support@tryletterhead.com or by logging a ticket via the Help Center. Please provide the Channel's name and email address of the subscriber/s.