How to sync your Mailchimp's newsletter metrics with the about your audience section of your store
If you use MailChimp, we can automatically sync your clickthrough rate, open rate, and total subscriber numbers in Letterhead so the stats are always updated on your store and in your package pricing calculations.
Here's how to activate the Mailchimp integration:
From the Letterhead menu, navigate to Settings->Integrations.
1. Click Connect next to Mailchimp to be redirected to Mailchimp to Log into the account you want to use.
2. You will be sent back to Letterhead to the Integrations page, you should see a confirmation message on the lower right corner of the page.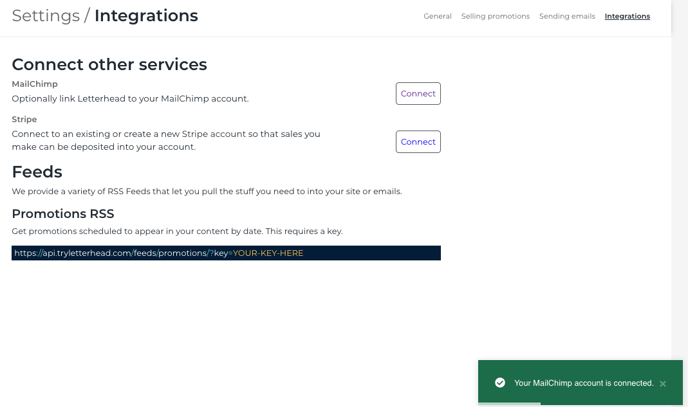 3. Refresh the page to confirm your Mailchimp account is connected:

4. Navigate to the Settings -> Selling promotions page to find a dropdown menu called Select an email list, use the dropdown to select which audience you want to use to automatically sync your newsletter stats on your store.
5. Switch the Automatically update metrics through MailChimp toggle to ON to have your stats automatically filled in.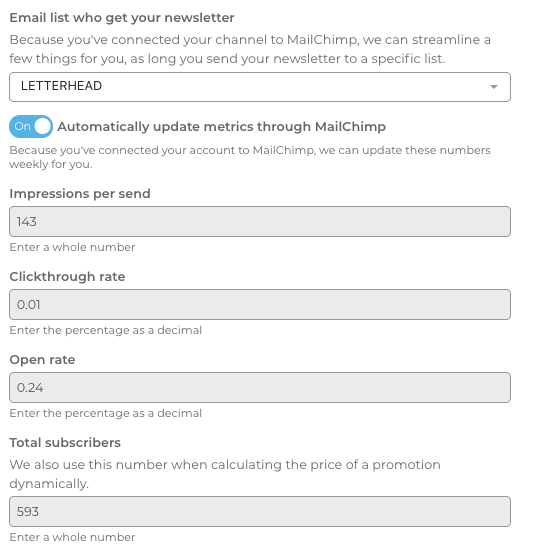 6. Scroll down to the bottom of the page and click the Save your settings button to save and submit your changes.