Authoring is currently in an alpha testing stage, which means it is not fully stable and only available to a few users.
1. Integrate your Letterhead account with Mailchimp
You must have a Mailchimp account to be able to import your list audience, send test emails, and schedule your newsletter for publication through Letterhead Authoring.
If you don't have a Mailchimp account yet, create one at https://mailchimp.com/. You can use Authoring with a free Mailchimp account, however, free accounts have a limitation on the number of test emails you can send per campaign and per 24-hour period. Learn more about Mailchimp's Test Email Sending Limits. We recommend that you always send a test email after creating or modifying a newsletter edition.
Once you have a Mailchimp account, follow the steps below to complete the integration with Letterhead:
1. From the Letterhead menu, navigate to Settings then Sending emails
2. Click the Connect button next to MailChimp
3. Log in to your Mailchimp account
4. Click Allow to allow Letterhead access to your Mailchimp account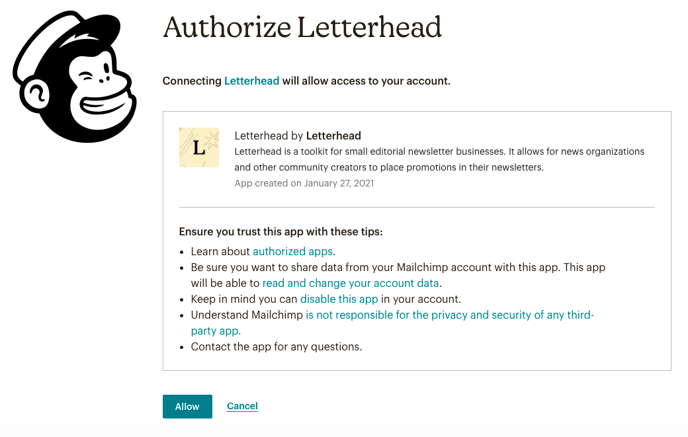 5. You will be sent back to Letterhead to the Integrations page, you should see a confirmation message on the lower right corner of the page.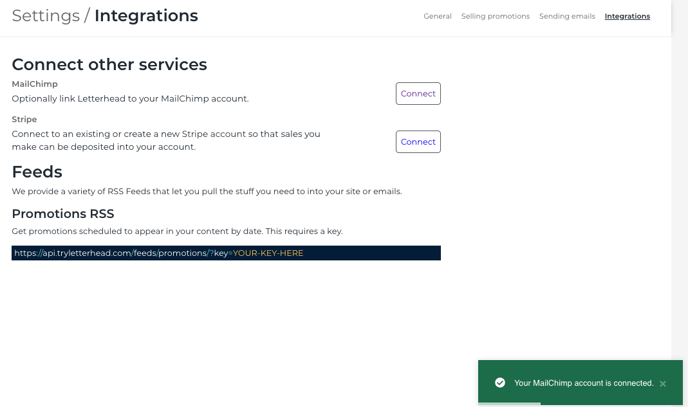 6. Refresh the page to confirm your Mailchimp account is connected:

7. Finally, if your account is connected successfully, you will see a dropdown menu called MailChimp list on the Settings -> Sending emails page, use the dropdown to select which audience you will be sending your newsletter to.
2. Set your newsletter default name and email address
From the Letterhead menu, navigate to Settings -> Sending emails
Then fill out your default send name and email address:
From name: Your newsletter comes from this name, and should be something your users easily recognize like your newsletter name or the name of the person who writes the newsletter
From email address: Your newsletter comes from this email address. If you use a custom email domain, you must verify your email domain through your Mailchimp account to use this email.
Once the form fields are complete, click the Save your settings button.