Learn how to wrap up and ship your newsletter by previewing, sending a test, selecting your audience, and scheduling it.
Previewing the newsletter
Once your newsletter edition is complete you can preview it to see an approximation of how it will look like in an email. To preview the newsletter:
Click on the Preview button on the right, then click on the Preview and schedule link, shown here: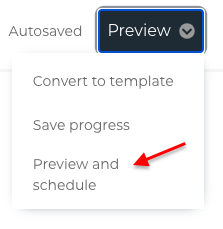 This will open the "Preview and schedule" window where you can:
Enter the email's subject line — a great subject line is important in helping recipients decide whether or not to open your email.
Enter the preview text, which is a short summary of your email that appears next to the subject line in the recipient's inbox.
Choose the date and time that you want to send the newsletter.



If there are any promotions scheduled on the date you choose, an alert will display, learn more.

Set the newsletter to private or public — a public newsletter is listed on your archive page and can be shared and viewed on the web.
When you're done, click the Preview button:

Scroll through your edition to preview your content: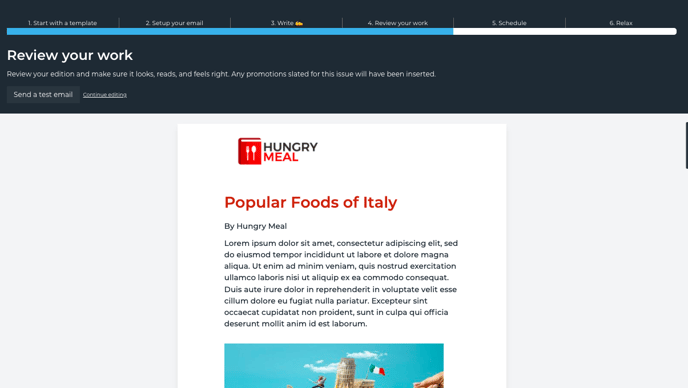 If you'd like to go back to editing mode, click on the Continue editing link next to the send a test email button.
Selecting recipients
To select the recipients to whom you want the newsletter to be sent, first connect your external ESP and select your list, or choose LetterheadESP and manage your list on the Subscribers page:
External ESP setup (Mailchimp or Constant Contact):
If you haven't yet, connect your account to Mailchimp or Constant Contact, instructions here
after connecting your account you will see a dropdown menu called Contact list (Constant Contact) or Mailchimp audience on the Settings -> Sending emails page, use the dropdown to select which audience you will be sending your newsletter to.
Letterhead ESP setup:
In Settings -> Sending emails select LetterheadESP as your email service provider
If you'd like to organize your audience into different segments, go to the Subscribers page to create tags and segments, learn more.
After completing the steps above, go to the authoring editor to select a segment or your entire audience, you can select the audience when you create a new edition, and in edit or preview mode before scheduling the newsletter: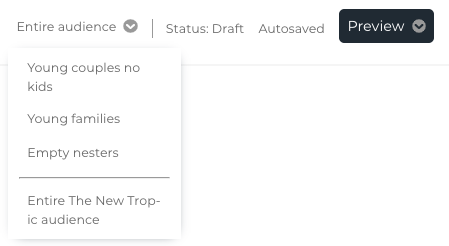 Scheduling the newsletter
In order to schedule a newsletter, you must send a test email first, in preview mode, click the Send a test email button, enter the email address of your choice and click on Send email, the following confirmation message is displayed when the test is sent successfully: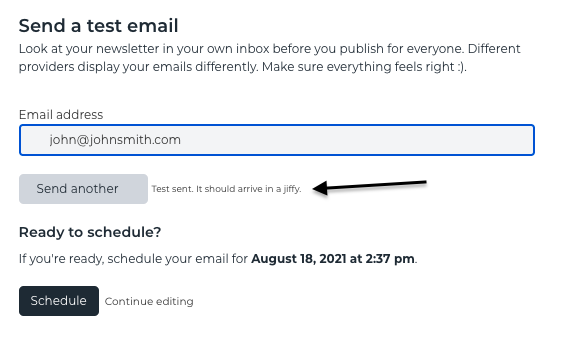 After reviewing your edition in your email, click on the Schedule button to send your newsletter on your chosen date.
Depending on your selection, the newsletter is then scheduled to be sent to your entire audience or segment.

To stop your newsletter from being sent, click on the Pause and edit button.