When creating a package, we require an image to visually represent the product you are selling to potential promoters.
Package images are displayed in your store below the newsletter introduction section and should be 600 x 400 pixels, for example: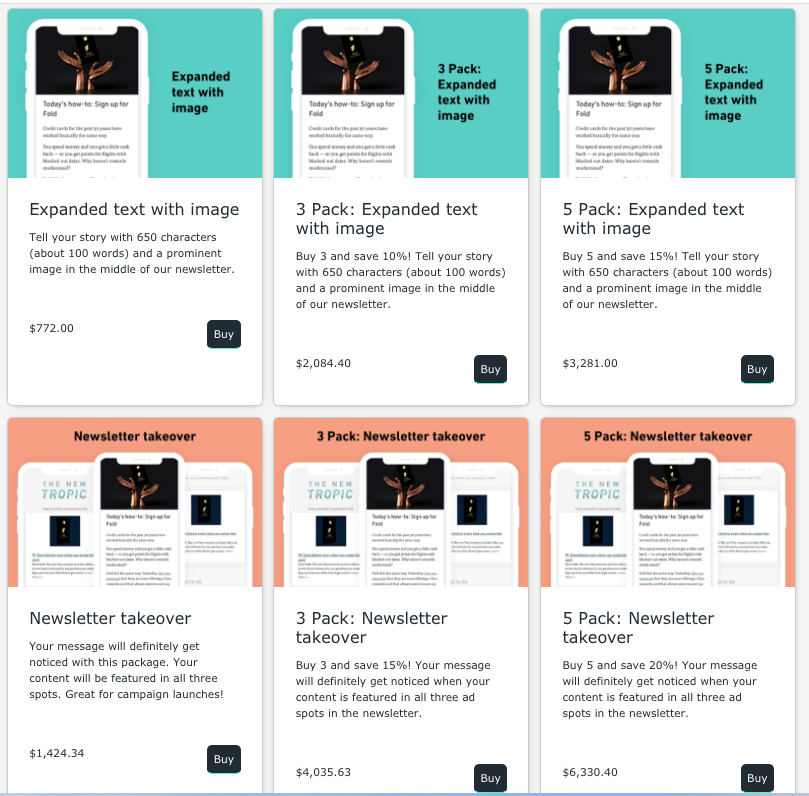 Best practices for package images:
Show how the promotion type(s) in the package will look in your newsletter
Include the number of promotion credits included in the package
Use your brand colors and maintain the overall style of the rest of your store
We recommend showing how promotions in your newsletter would appear on a phone since many newsletter readers use mobile devices. It's most important to make sure each package image clearly shows potential promoters what options they have for purchasing promotions in your newsletter.
Examples of package images:
| | |
| --- | --- |
| Package with 1 promotion type: | |
| Package with 3 promotion credits of the same promotion type: | |
| Package with 5 promotion credits of the same promotion type: | |
| Package with 3 different promotion types: | |
| Package with 1 promotion type: | |
| Package with 3 promotion credits of the same promotion type: | |
| Package with 5 promotion credits of the same promotion type: | |