Use the Promote button to design and schedule a new promotion on behalf of your promoters or to create in-house ads for your newsletter.
An in-house ad is a self-promotional ad that you can run using your own inventory. It is free to create your own promotions using Letterhead, and you can create as many as you want.
The Promote button can be found on the promotions page.

After clicking Promote, select the type of promotion you want to design:

Next, complete the form with details about your promotion, like text or image, then select which date you'd like the promotion to publish. As a newsletter administrator, you may choose to override the disabled dates in your calendar by selecting the Override disabled dates option: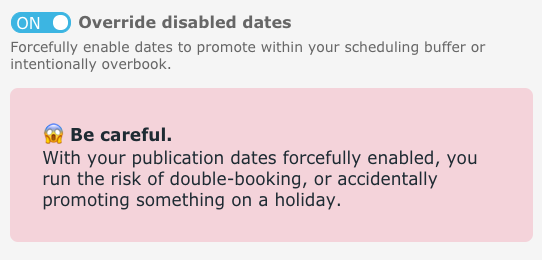 After choosing a publication date, make sure to select the box to agree to the terms and conditions, then click the Schedule button to have your promotion saved and scheduled for publication.
Your newly created promotion can be found on the promotions page. Use the search bar to find your promotion, click on the

then click Edit to make any changes if needed.