The Settings page is where you will set and edit details about your newsletter, set and edit your store content, customize how you send your newsletters through authoring, and manage integrations with external tools.
To access the Settings page click on Settings in the Letterhead menu.
The Settings page is divided into four sections, use the links on the right side of the page to navigate to each section.
Complete each form field using the following instructions:
After completing each section, click the Save your settings button at the bottom of the page to save and submit your settings. If you leave the page before clicking Save your settings, your changes may not be saved.
About your channel:
Description: Use 140 characters or less to describe your newsletter. This is the short description that's placed at the top of your store.
Logo: Upload and crop a square .jpg or .png image. It must be at least 300px wide and 300px tall.Logos must be 300 x 300 pixels, no larger than 150kb, and be either a jpg or png.
Timezone: Select the default time zone of your newsletter from the Time zone drop-down list.
Link to your website: Enter a link to your website
Link to your newsletter: (optional) Enter a link to an edition of your newsletter, this will appear on your store.
Contact Information:
Complete the remaining fields with information for the main contact for this newsletter
Contact information isn't listed on your store but will be used on receipts and inbound inquiries will be sent to the email address provided here.
Content metrics:
Impressions per send: also called opens, this is the total subscribers' number times the open rate; enter a whole number.
Clickthrough rate: enter the percentage as a decimal (ie: 9% would be 0.09)
Open rate: enter the percentage as a decimal
Total subscribers: enter a whole number
Your store design
Wordmark: A wordmark is a horizontal logo — like a masthead — that optionally appears in your store. Wordmarks must be either a jpg or png and no larger than 150kb.
Screenshot of your content: You can optionally grab a screenshot of how your content appears on a phone, and we'll superimpose that in a neat graphic on your store. Your screenshot must be 362x660 pixels, no larger than 150kb, and be either a jpg or png.
Thumbnail: We use your 600 x 400 thumbnail image to ensure that your pages (like your store) look great when shared, searched, or promoted — like on the https://store.tryletterhead.com homepage. Thumbnails must be 600 x 400 pixels, no larger than 150kb, and be either a jpg or png.
This image shows where the wordmark/ horizontal logo (1) newsletter description and URL (2), audience data/ stats (3), and a screenshot of your content will be displayed: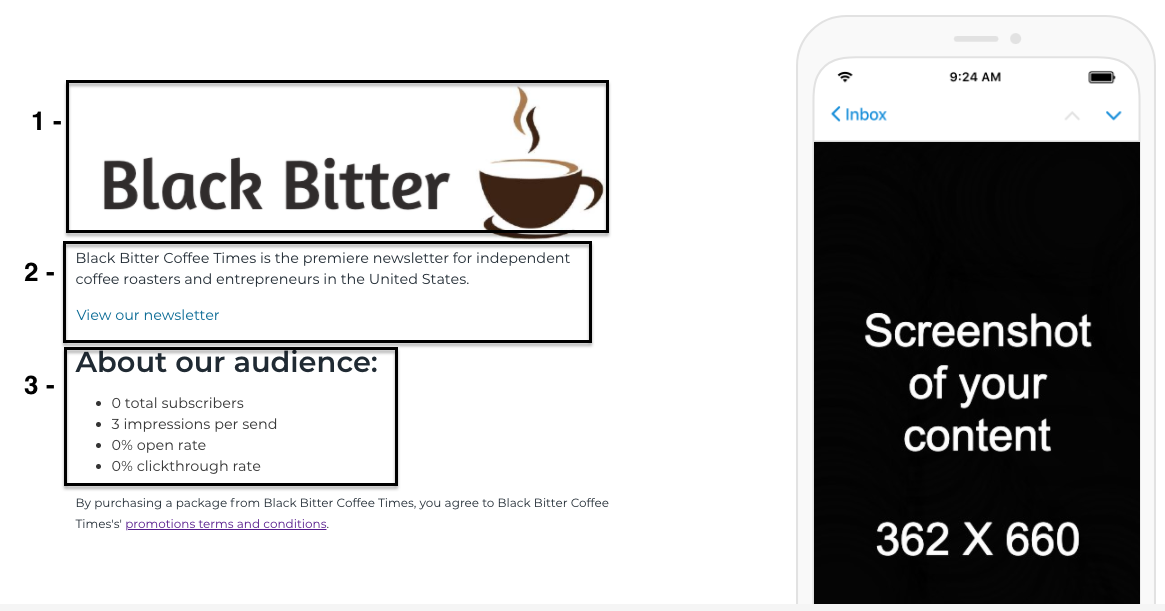 Availability
Publication schedule
Publication days: Select all days that you publish, or send, this newsletter.
What days of the year do you skip? Select all days that you would typically publish, or send, this newsletter but plan to skip. For example, a widely observed holiday like New Year's Day. Be sure to update this each year.
Scheduling buffer (in hours): Prevent promoters from scheduling promotions within a certain number of hours before your publication or send time.
Link to your promotions terms and conditions (optional): review the information in How to add promotions policies to your store to learn more about this field.
Email defaults
From name: Your newsletter comes from this name, and should be something your users easily recognize like your newsletter name or the name of the person who writes the newsletter.

From email address:

Your newsletter comes from this email address

. If you use a custom email domain, you must verify your email domain through your Mailchimp account to use this email.
Look and feel
Accent Color: Color your links, blockquotes, and buttons. The color will be applied to links in your newsletter.
Fonts
Body and paragraph font: The body font is applied to any text in your content with the Normal style.
Heading font: The heading font is applied to The Subject line and Preview text and any Heading text you have in your content.
Promotions placement
Load promotions only before headings: Choose whether promotions are loaded throughout the entire body content or only before headings.
Stripe:

Connect to an existing or create a new

Stripe account

so that sales you make can be deposited into your account.
MailChimp: Optionally link Letterhead to your MailChimp account.