In the Letterhead marketplace, you can find a variety of newsletters to choose from and click on the Visit store button under the newsletter description to visit their store page. Also, if you know the store's URL https://store.tryletterhead.com/[Newsletter-Name]you can go straight to it.
Once in the store, you can view the promotion package options available for purchase. Use the Buy button to select a package to purchase.
Review the number, description, and cost of the promotions included in the package you selected, and preview an example of what the promotions will look like before making your purchase. If you want to consider purchasing a different package, use the Browse more promotion packages link at the top of the checkout page to return to the store.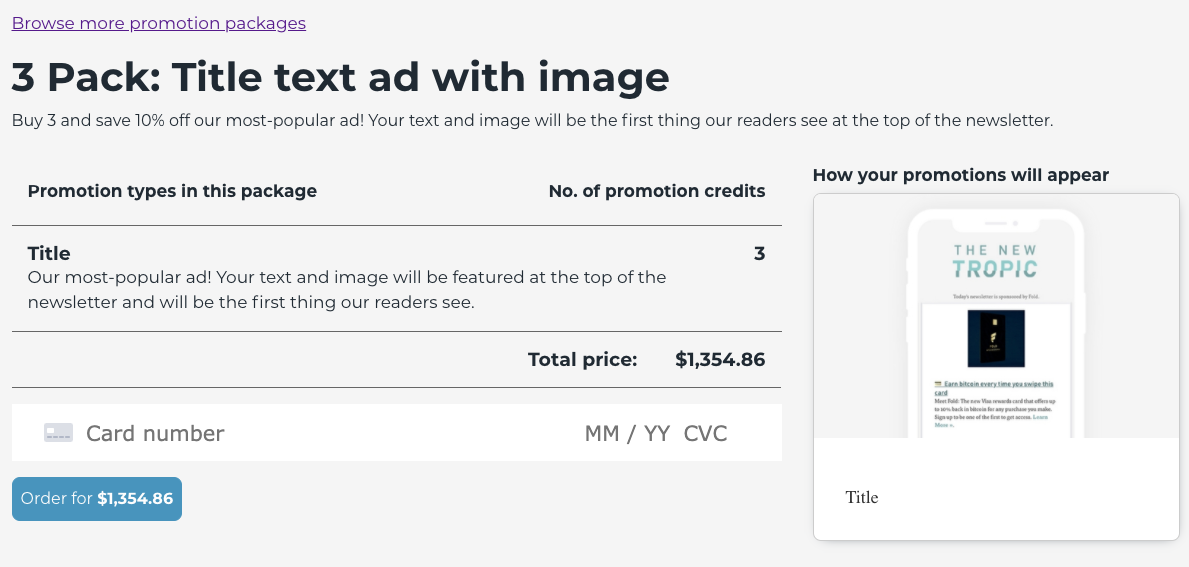 If you haven't yet created an account , buttons at the bottom of the page will prompt you to do so before you can complete your purchase.
logged in
When you're Logged in, enter your credit card information and use the Order button to place your order.
If a newsletter brand provided you with a direct link to claim a free or discounted package, you will still create an account, enter your credit card information, and use the order button to complete your order. Your credit card will not be charged for a free package — the package price would display as $0.00.
Once the order processes, you'll receive an order confirmation message and email that you've successfully purchased a promotion package.
Each promotion package you purchase may include one or more promotions, and each promotion in the package equals one promotion credit, for example, a package offering 3 promotions equals 3 credits. Credits never expire.
Downloading your receipt
The order confirmation displays your order details, including the order number and promotion package details. Use the Download receipt button at the bottom of this page to download a PDF version of the order confirmation details for your records.
You can access past order confirmations and downloadable receipts from your dashboard at any time.