When you're Logged in, use the Dashboard button in the top right corner of any page within Letterhead to navigate to your dashboard.
From your dashboard, you can:
View promotion credits and create promotions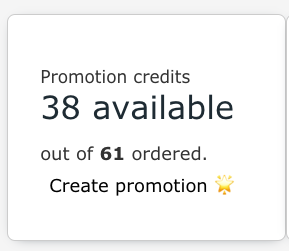 Use the Create promotion link to design and schedule a promotion.
View orders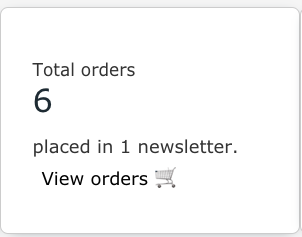 Use the View orders link to access a searchable table of your orders.

From this table, or from the Latest orders table in your dashboard, you can click View in the Actions column to view order details. Use the Download receipt button at the bottom of the single order page to download a PDF version of the order confirmation details for your records:
View metrics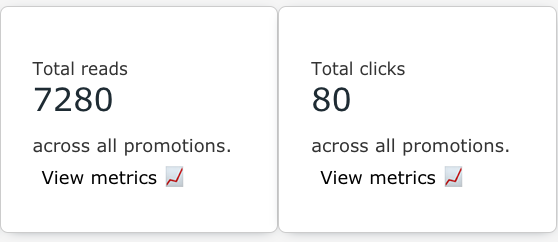 Letterhead reports total reads and total clicks for all your published promotions in the dashboard, they are updated 4 hours after your promotion is published, and will update with new metrics for 7 days in this report. Use the View metrics button to open the promotions page where you can view the total Views and Clicks of each promotion you published individually along with the newsletter's estimated reads:
Reads (estimated): the newsletter's average open rate, calculated using its latest total number of subscribers and open rate. Use this as a guide for the potential number of subscribers who may see your promotion.

Verified views (beta)*: the number of times your promotion was viewed, measured by Letterhead's pixel tracker.

Verified clicks (beta)*: the number of times your promotion's call-to-action link is clicked.
*More on Letterhead's pixel tracking in beta:
Each promotion has a unique pixel, which renders invisibly when a user opens an email or views that email in their browser. Letterhead counts each time that happens. Pixel tracking can be tricky, though, because some email clients, like Gmail, will cache all images — including pixels — in an email. This ensures that emails open fast, but it also gets in the way of pixel tracking.
Each link in a promotion's call-to-action field gets "resolved" by us, meaning we turn it into a different link before a promotion is added to a newsletter so we can count when someone follows the link.
We are working on making this better on our end, but that's why we consider some metrics to be in "beta."
The number of views and clicks start to accrue within 4 hours after the promotion is published and continue to update every 4 hours.
View and edit promotions
From the Upcoming scheduled promotions table in your dashboard or from the promotions page, click on Edit under the promotion type and your organization name in the Promotion column to open the promotion editor, in general newsletters will let you make changes to a promotion 72 hours before its publication date.

In the promotion editor, you can change the design of your promotion, including text, images, links, or the publication date of the promotion.
Use the Delete button to cancel your promotion and receive your promotion credit back automatically — this must be done 72 hours before your promotion is scheduled to publish.