The promotions page is where you can search and view all of your published or upcoming promotions, access the calendar view and create a promotion.
To access the promotions page, click on either the Promotions link in the Letterhead menu or the See all promotions link to the right of Upcoming scheduled promotions from your newsletter dashboard.
Promotions table: List view
On the right side of the promotions table, you can filter the promotions list to show Upcoming or Published promotions. In the promotions table or List view, you can quickly view the following columns:
Scheduled: the date the promotion is scheduled for publication (Upcoming), or when the promotion was published (Published).
Promotion: the promotion type selected, the promoter's organization name, and the actions that can be performed on this promotion (View or Edit, Clone, and Copy HTML).
Promoter: the promoter's organization name — this column displays only when viewing Upcoming promotions.
The columns described below, display only when viewing Published promotions:
Reads (estimated): the newsletter's average open rate, calculated using its latest total number of subscribers and open rate. Use this as a guide for the potential number of subscribers who may see any promotion.
Verified views (beta)*: the number of times a promotion was viewed, measured by Letterhead's pixel tracker.
Verified clicks (beta)*: the number of times a promotion's call-to-action link is clicked.

* The number of views and clicks start to accrue within 4 hours after the promotion is published and continue to update every 4 hours.
Use the search bar on the top left corner of the table to search for keywords displayed in the columns.
View, Edit, Clone, and Delete a promotion
All promotions can be viewed and cloned, but only upcoming scheduled promotions can be edited or deleted:
To view the details of a promotion, click on View under the promotion type and promoter's organization name in the Promotion column.
To clone a promotion, click on Clone under the promotion type and promoter's organization name in the Promotion column. Make sure all of the form fields are filled out and the box is checked to agree to the terms and conditions, then click the Schedule button to have your new cloned promotion saved and scheduled for publication.
When a promotion can still be edited, the View link will be replaced with Edit in the Promotion column. After clicking the Edit link, click on the Edit button on the upper right corner of the promotion view page to go to the promotion editor, from the promotion editor, you can:

Edit all promotion fields. Remember to click the Update button to save and submit your changes.
Delete the promotion. This is permanent and cannot be undone.
Calendar view
Calendar view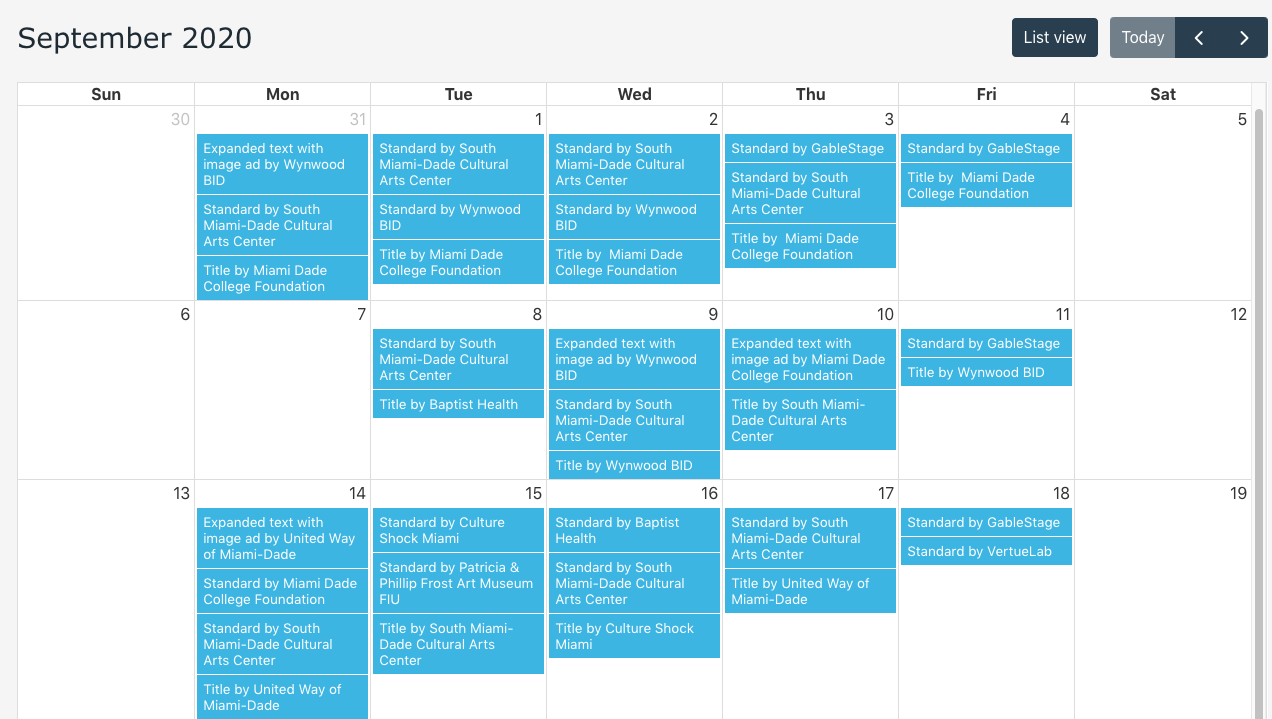 Create promotions
To learn more about the Create promotion button, check out the article create promotion.