If you use MailChimp, we can automatically sync your clickthrough rate, open rate, and total subscriber numbers in Letterhead so the stats are always updated on your store and in your package pricing calculations.
Here's how to activate the Mailchimp integration:
From the Letterhead menu, navigate to Settings then the About section.
1. Scroll down to the Mailchimp integration area to enter your MailChimp API key in the field shown below.
2. Scroll down to the bottom of the page and click the Update button to save and submit your API key
3. Go back to the Mailchimp integration area and switch the Integrate with Mailchimp toggle to ON to sync Letterhead with your Mailchimp account
4. Select your Mailchimp account name from the dropdown List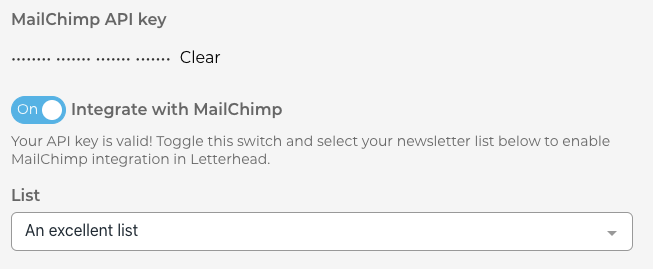 5. In the Stats area, switch the Sync your stats with MailChimp toggle to ON to have your stats automatically filled in.
What's your Mailchimp API key? Here are Mailchimp's instructions to generate the key: