Package prices are displayed next to the Buy button for each package on your store, like this: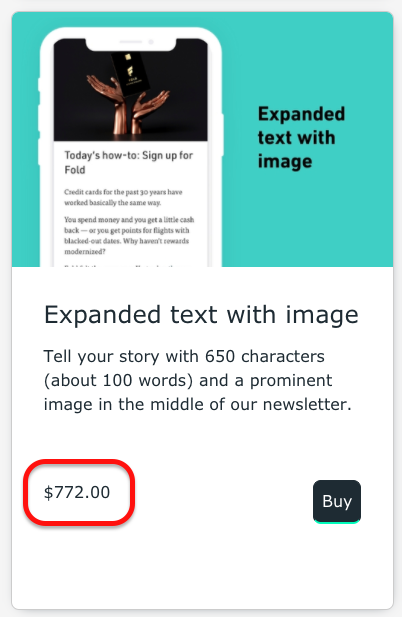 There are two ways to set prices for your packages — use one:
Set a CPM (short for 'charge per thousand' subscribers) for your promotion types.

We recommend this method most often because CPMs are calculated based on your newsletter metrics and unique audience details. At this time, CPMs can only be set by the Letterhead team. Contact Support to add or edit CPMs.

Set a flat fee for your promotion packages.

This can be done when creating a promotion package. We recommend only using this method when creating a hidden package specifically for one promoter.
How package prices work:
If your promotion type CPM is set to 0 and your package flat fee is also set to 0, your package will be $0.00 in your store.
If your CPM is correct, but your package price is incorrect, check your promotion package editor for discrepancies.

Verify the number of promotion types in the package. For example, if you want to sell three "Image with text" promotions in a package then the quantity for this promotion type should be set to three.
Verify if a discount may have been set for your package.