To create and manage promotion types you offer for purchase, click the Promotion types link on the top right corner of the newsletter dashboard to access the promotion types page. You must create the promotion types you'll offer before you can create promotion packages.
Remember: Your promotion type is a promise to your customer. It's on you to ensure that your promoters know what they're getting and that the content of their promotion is formatted in the way that you promise.
Create a promotion type
To create a new promotion type, click on the Create type button. Complete each form field using the following instructions:
Promotion type name: Use 50 characters or less to give your promotion type a name. This will appear in your store. Be descriptive, for example, if the promotion type will be displayed at the top of your newsletter you might call it "Title" or "Premiere"
Description: Use 140 characters or less to describe where and how this promotion type will be displayed in your newsletter.
How many promotions of this type are in a single edition of your newsletter content: Enter a whole number that represents how many of this promotion type will appear in each publication or send of your newsletter.
Cost per thousand (CPM) impressions: This field is view-only, the Letterhead sales team will negotiate and set the CPM for you during your onboarding process.
Screenshot: We require stores to show an example of how promotion types will look to promoters so that your customers understand what they're purchasing. Screenshots must be 600 x 400 pixels, no larger than 150kb, and be either a jpg or png.
MJML Template: This field is view-only and can be updated upon request.
This image shows how the promotion type name, description, and screenshot will be displayed on your store: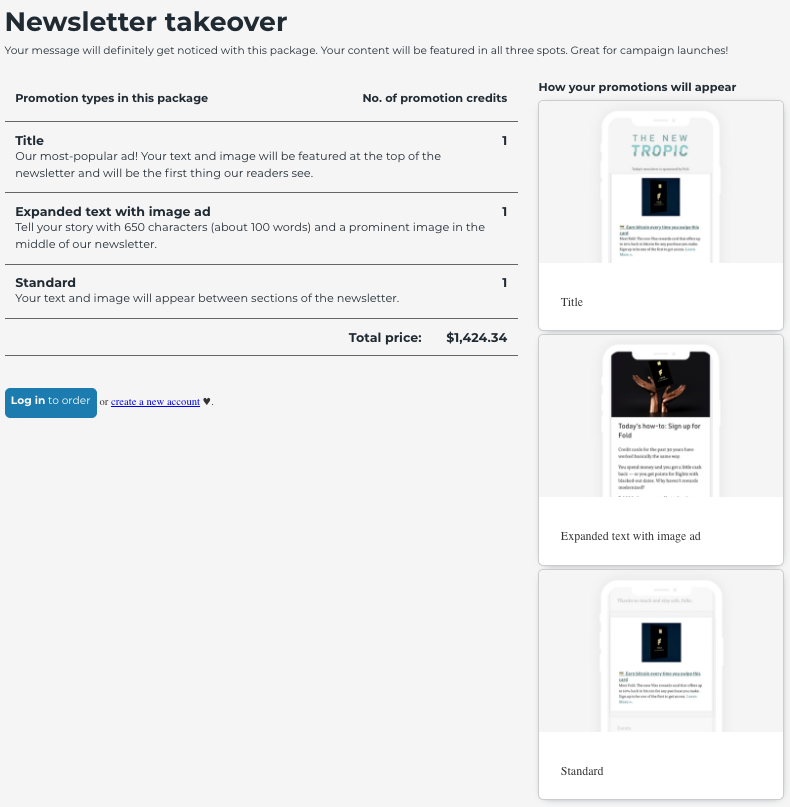 Customize your promotion design
The options available in this section are set for the default promotion types we currently offer. In the future, we may offer customers custom promotion type options. Read more about the settings for default promotion types.
Once the form fields are complete, click the Create button to save and submit your settings. If you leave a page before clicking Create, your changes may not be saved.
View, Edit or Delete promotion types
To access the promotion type editor to view, edit or delete an existing promotion type, use the search bar to find the promotion type you want to access, then on the right side of the promotion type, click Edit in the Actions column to access the promotion type editor.
From the promotion type editor you can:
View all the fields included in your promotion type.
Edit your promotion type - remember to click the Update button to save and submit your changes.
Delete your promotion type.

Important: If you delete a promotion type previously sold that hasn't been scheduled for publication in your newsletter yet, the promoter will not be able to schedule this promotion anymore and should be entitled to a refund or a free promotion of the same type.