Letterhead allows you to create Welcome Letters, which welcome new subscribers, help subscribers to understand the processes, provide details about special offers, and so on.
Click Newsletters in the Letterhead app to configure and manage welcome letters. The Welcome letters tab shows the application's list of existing welcome letters.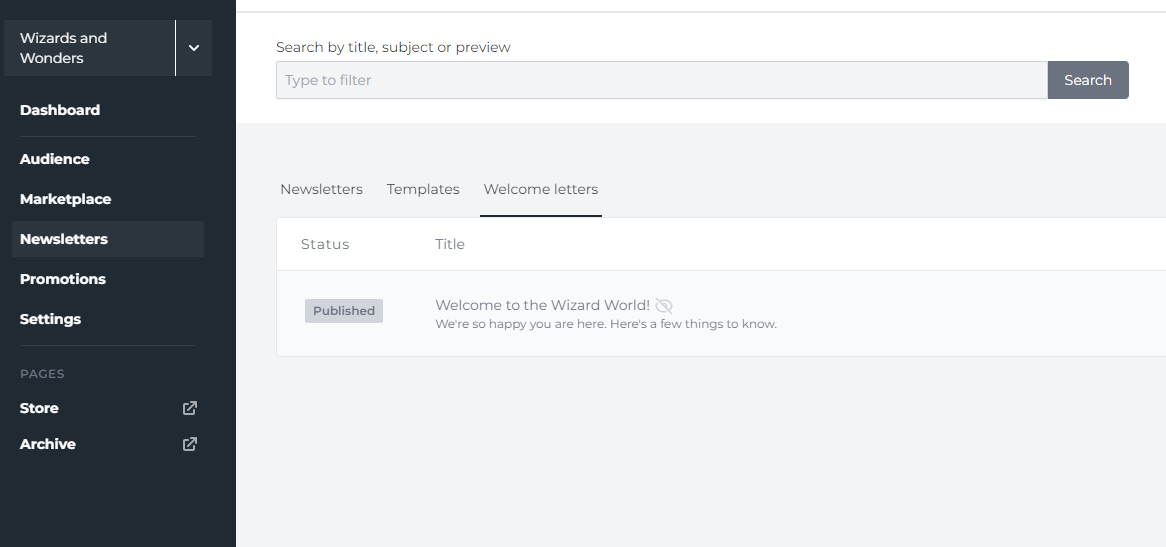 Creating a new Welcome Letter
Execute the following steps to create a new Welcome Letter:
Select What type of email are you making as a Welcome Letter.
Click Weekly Template or Blank to create this welcome letter from an existing template or from scratch.
In the Setup your email page, provide the following:
In Subject, enter the email subject for your letter.
In Preview text, enter a message that will appear as a preview of the email.
Click Next write to open the Write page.
Draft your welcome letter.
When done, click Preview, select Preview and activate to view the welcome letter and publish it.
Click Send a test email to send the welcome letter to your email for a review before publishing it to subscribers; enter the email address and click Send email to send the welcome letter.



Click Activate to publish the letter.

NOTE: If you have multiple Welcome Letters activated, they will all send to the new subscriber at the same time upon email confirmation.
TO EDIT: Click Deactivate and edit to deactivate and continue editing the content. It will no longer send once deactivated until you proceed with the normal activation process of sending a test.