From the order confirmation page, use the Create a promotion now button to create and schedule your promotion for publication.
You can also access the Create->New promotion button from your dashboard.
A form will open, asking you to provide information to design your promotion.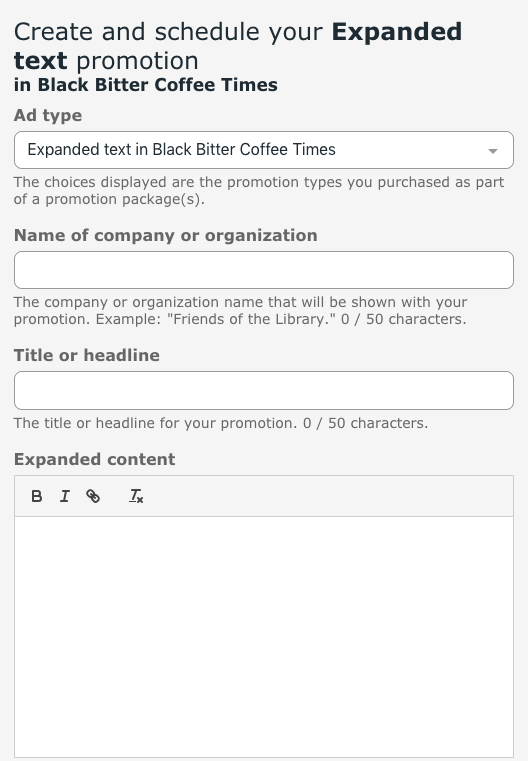 First, select the promotion type you want to create from the drop-down menu. The options displayed are based on the types included in the package you purchased.
If you have purchased multiple promotions of the same type, the name of the promotion type will only appear in the drop-down menu once, but you will be able to create and schedule the same promotion type as many times as the number of credits you have purchased of this type.
Then the form will prompt you to complete different fields depending on which promotion type you're designing. Each field will guide you to provide the correct information, for example, image upload fields will specify the required image size.
As you populate each field, a preview of your promotion's design will generate on the right side of the pop-up form.
At the bottom of the form, select the date you want your promotion to publish. Most newsletters require promotions to be scheduled 2-3 days before the publication date.
You can only select one date at a time, If you have credits remaining and would like to schedule this promotion to be published again at a different date, go to your dashboard to click on Create promotion, fill out the form as explained above, then select a new date to schedule your promotion.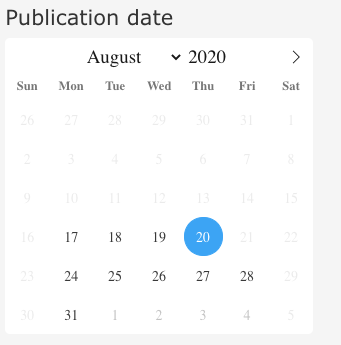 After choosing a publication date, make sure to select the box to agree to the terms and conditions, then click the Schedule button to have your promotion saved and scheduled for publication.
Once the promotion schedules, you'll receive a confirmation message that you've successfully scheduled the promotion. From here, you can design and schedule another promotion or visit your dashboard.